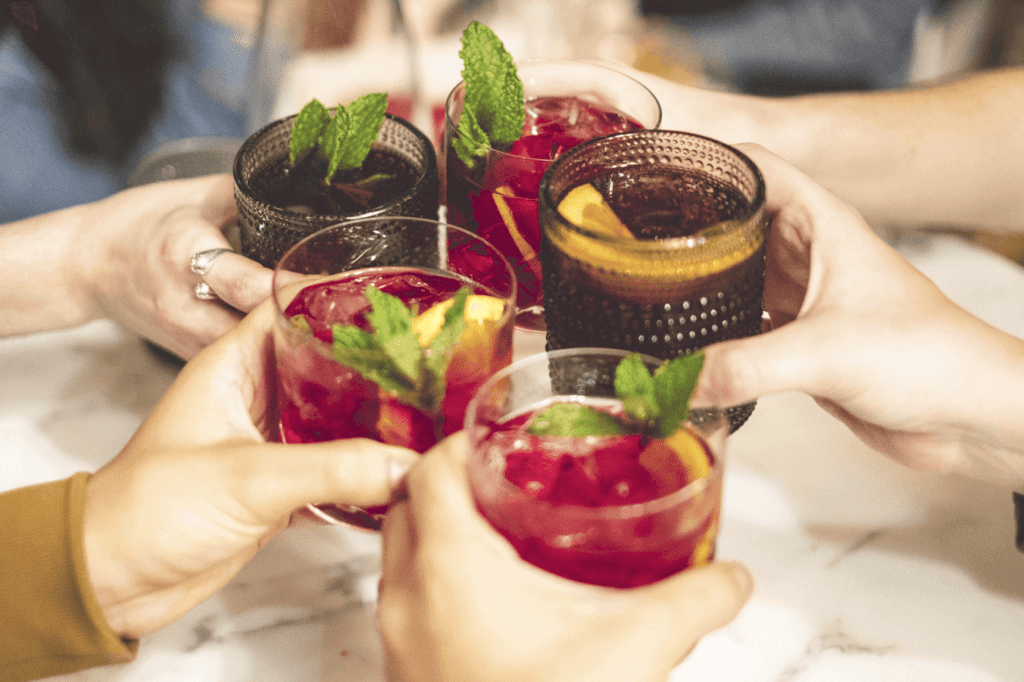 Drinks That Inspire The Holidays
It's that time of year again. It's cold outside, there's friends and family to entertain, and, as we all know, plenty to celebrate during the month of December. Turns out the holiday season is a perfect time of year to skip the Big Night Out and attempt your best impression of those fancy mixologists in swanky low-lit watering holes. But we know it's not always easy to muddle, shake, and stir your way to success, so we tapped the collective knowledge of our team to compile a list of our favorite holiday libations—both classic renditions and some with a modern twist—and provided instruction for how to create each.
Hope one (or more!) gets you in the spirit of the season.
---
Boulevardier
1.5 oz. bourbon
1 oz. Campari
1 oz. sweet vermouth
Add ingredients to a rocks glass with as large a piece of ice as you have.
Stir until cold, 10 to 20 seconds, and garnish with an orange peel.
---
Sidecar
2 oz. Cognac
0.75 oz. lemon juice
0.75 oz. Cointreau
Optional: 0.25 oz. simple syrup
Add all ingredients to a cocktail shaker with ice and shake for eight to 10 seconds.
Strain off the ice into a sugar-rimmed coupe glass.
Garnish with an orange peel.
Note: Opinion divides on whether the sugar rim is appropriate. Its function here is to add a little kiss of sweetness to a drink that is, frankly, pretty tart. If you'd like to omit it—or just to bring a little supplemental balance—add about 0.25 oz. simple syrup to the cocktail before you shake.
---
Holiday Sangria
1 (750 ml)

Bottle red wine

1 cup

Brandy

1/4 cup

Sugar

2 cups

Cranberries

1

Orange, sliced

1

Apple, cubed

2-3

Cinnamon sticks

4

Star anise

4

Sprigs rosemary, plus more for garnish

1

Bottle sparkling apple cider, chilled

Equal parts cinnamon and sugar, for rimming the glasses, optional

Maple syrup or honey for rimming the glasses, optional
In a large pitcher (or punch bowl) combine the red wine, brandy, sugar, cranberries, oranges, apples, cinnamon sticks, star anise and rosemary. Mix well, cover and place in the refrigerator overnight to allow flavors to come together.
Just before serving add the sparkling apple cider, stir to combine. Serve over ice, in a glass rimmed** with a mix of cinnamon and sugar, garnished with fresh rosemary sprigs.
** If you'd like to serve this sangria in a glass rimmed with cinnamon spiked sugar, here's how:
Mix equal parts cinnamon and sugar together in a small and spread it out on evenly on a small plate. On a second small plate, pour out some maple syrup or honey. Dip the edge of your glass in the honey or syrup and then press the rim of your glad into the sugar mixture. Fill the glass with ice and carefully pour the sangria without hitting the side of the glass, garnish with rosemary and serve.
---
Grapefruit Cardamom Gin Fizz
2 oz.

Rosemary syrup (recipe below)

3 oz.

Cardamom infused gin (recipe below)

1/2 cup

Grapefruit juice

Splash of Prosecco, chilled

Rosemary sprigs

Grapefruit peel, for garnish
Cardamom Infused Gin and Rosemary Syrup
1 cup

Gin

6

Cardamom pods

1 cup

Sugar

1 cup

Water

2

Rosemary sprigs
In a small jar with an airtight lid add gin and cardamom pods. Seal and store for 24 hours.
To make the rosemary simple syrup, bring sugar, water and 2 rosemary sprigs to a simmer in a small saucepan until sugar is dissolved. Remove from heat and allow to cool completely. Remove the rosemary and use right away, or store in an airtight container in the refrigerator for up to a week.
To make the cocktail pour rosemary syrup, infused gin and grapefruit juice over ice in a cocktail mixer and shake to combine.
Using a strainer, divide the mixture in two glasses filled with fresh ice.
Top with Prosecco and garnish with a sprig of rosemary and a grapefruit peel.
---
Chai Tea Concentrate (non-alcoholic)
6 cups

Water

12

Back tea bags (or equivalent)

1

Cinnamon stick

1

Thumb sized piece of fresh ginger, thinly sliced

1 tbsp

Orange zest

10

Whole cardamom pods or 60 cardamom seeds

3

Whole star anise pods

20

Whole cloves

20

Whole black peppercorns

1 tbsp

Freshly ground nutmeg

1 cup

Brown sugar, adjust to taste

1

Vanilla bean, or 2 tbsp vanilla extract
Bring water to a boil.
Add tea bags, spices and vanilla bean (if using extract, hold off until the end to add it.) Remove from heat and let steep 15-20 minutes, longer, depending on how strong you want it.
Strain and add the brown sugar and vanilla extract if using. Stir to combine.
Mix ½ cup concentrate with ½ cup any type of milk. Heat on stovetop or microwave. Keep refrigerated. Enjoy for up to two weeks.
Advisory services are offered through EdgeRock Capital, LLC ("EdgeRock"), an independent SEC-registered investment advisor. Registration with the SEC as an investment adviser does not imply that EdgeRock or its owner or employees of EdgeRock possess a particular level of skill or training in the investment advisory or any other business. The firm's disclosure documents (Form ADV 2 – Brochure, Privacy Policy, etc.) are available online at www.edgerockwealth.com. EdgeRock is not a broker-dealer. EdgeRock Wealth Management, LLC is an independent financial services firm that helps individuals, families and companies create strategies which use a variety of investment and insurance products to suit their needs and goals. Advisory services are provided by EdgeRock Capital, LLC, a SEC Registered Investment Advisor. Registration does not imply any level of skill or training. The information presented in this video is for educational purposes only and does not represent an offer or solicitation for the purchase or sale of any specific securities, investments, investment strategies, or insurance products or services by EdgeRock Wealth Management, or any other third party regardless of whether such security, product or service is referenced in this website or video. Investing involves risk of loss. No investment strategy can guarantee a profit or protect against loss in periods of declining values. Changes in investment strategies, contributions or withdrawals, and economic and market conditions will materially alter the performance of your account. Nothing in this website or video is intended to provide tax, legal, or investment advice. You should consult your business advisor, attorney, or tax and accounting advisor regarding your specific business, legal or tax situation. EdgeRock Wealth Management, LLC links information provided by third parties to assist users in locating information on topics that might be of interest to them. Although the information presented is from sources we deem to be reliable, it has not been verified and is not guaranteed, nor can we attest to the accuracy of the information. Presenting information provided by a third party does not constitute a representation of the products or services offered by our firm and does it constitute an endorsement by our firm of the sponsors of the website or video or the information, products or services presented on the website. No consideration of any kind has been paid to or by EdgeRock Wealth Management, LLC or EdgeRock Capital, LLC for the information discussed on the website or in this video. The information is not intended to be used as the sole basis for financial decisions, nor should it be construed as advice designed to meet the needs of an individual's situation. Please consult your financial advisor before buying or selling any security.
Ready to Take
The Next Step?
---
For more information about any of the products and services we provide, schedule a meeting today or register to attend a seminar.