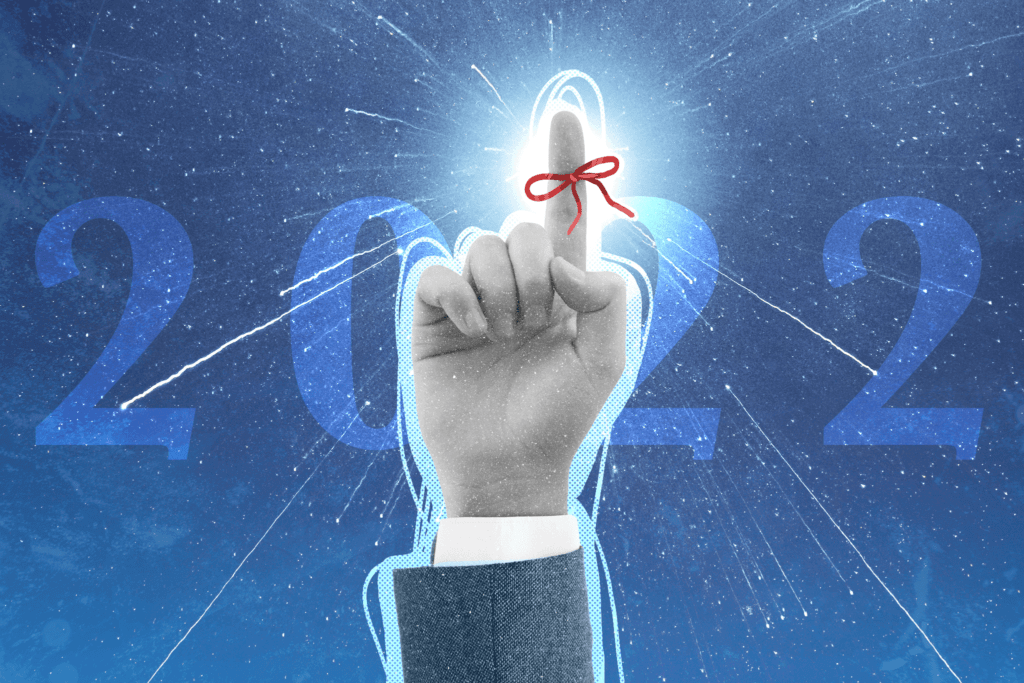 Best Laid Plans: 2022 Edition
What goals are you making a plan to accomplish in 2022?

Kelley O'Dell, Client Relations
"I plan to continue learning French, get back into my Peloton routine, and stay involved in my children's schools."
Andrew Perry, Advisor
"I plan to spend more time outdoors—hiking, fishing, camping—but also read more (at least one book per month) and get in better shape."
Danielle Sanders, Reception
"I want to spend more quality time with my kids, undistracted—and spend less time in front of screens."
Rob Foss, CCO/Portfolio Manager
"Plans? I'm married with two kids, ages two and four. I'm just hoping to survive."
Kyle Shelley, Advisor
"I'm most excited to help build [EdgeRock's] media platform and content creation to educate people on investing and in creating a sustainable, compounding funnel for new business."
Rebecca Herbert, Client Relations
"Well, my main goal is to not have Cory [fiancé] run away at the altar! But I do have a New Years resolution to reconnect with people every month. I want to reach out to someone who either I haven't spoken to in a while or someone who might need someone to talk to. My plan is to just reach out!"
Kyle Gerken, Director of Business Development
"I'm trying to gain a full 100 pounds. Or lose 100 pounds. Haven't decided yet!"
Niki Hicks, Marketing Designer
"My plan this year is to spend more time illustrating my dog. He always makes me laugh and I might have enough material to start a comic about him."
Tyler O'Dell, Advisor
"Really looking forward to meeting some great families and making a name for EdgeRock this year here in Grand Junction. That and maybe dropping a couple pandemic pounds!"
Ryan Murphy, Director of Marketing
"Looking forward to riding my bike, traveling somewhere new, and getting back on stage to play some music again."
Kyle O'Dell, President
"My plan this year is to get more involved in the community."
Advisory services are offered through EdgeRock Capital, LLC ("EdgeRock"), an independent SEC-registered investment advisor. Registration with the SEC as an investment adviser does not imply that EdgeRock or its owner or employees of EdgeRock possess a particular level of skill or training in the investment advisory or any other business. The firm's disclosure documents (Form ADV 2 – Brochure, Privacy Policy, etc.) are available online at www.edgerockwealth.com. EdgeRock is not a broker-dealer. EdgeRock Wealth Management, LLC is an independent financial services firm that helps individuals, families and companies create strategies which use a variety of investment and insurance products to suit their needs and goals. Advisory services are provided by EdgeRock Capital, LLC, a SEC Registered Investment Advisor. Registration does not imply any level of skill or training. The information presented in this video is for educational purposes only and does not represent an offer or solicitation for the purchase or sale of any specific securities, investments, investment strategies, or insurance products or services by EdgeRock Wealth Management, or any other third party regardless of whether such security, product or service is referenced in this website or video. Investing involves risk of loss. No investment strategy can guarantee a profit or protect against loss in periods of declining values. Changes in investment strategies, contributions or withdrawals, and economic and market conditions will materially alter the performance of your account. Nothing in this website or video is intended to provide tax, legal, or investment advice. You should consult your business advisor, attorney, or tax and accounting advisor regarding your specific business, legal or tax situation. EdgeRock Wealth Management, LLC links information provided by third parties to assist users in locating information on topics that might be of interest to them. Although the information presented is from sources we deem to be reliable, it has not been verified and is not guaranteed, nor can we attest to the accuracy of the information. Presenting information provided by a third party does not constitute a representation of the products or services offered by our firm and does it constitute an endorsement by our firm of the sponsors of the website or video or the information, products or services presented on the website. No consideration of any kind has been paid to or by EdgeRock Wealth Management, LLC or EdgeRock Capital, LLC for the information discussed on the website or in this video. The information is not intended to be used as the sole basis for financial decisions, nor should it be construed as advice designed to meet the needs of an individual's situation. Please consult your financial advisor before buying or selling any security.
Ready to Take
The Next Step?
---
For more information about any of the products and services we provide, schedule a meeting today or register to attend a seminar.