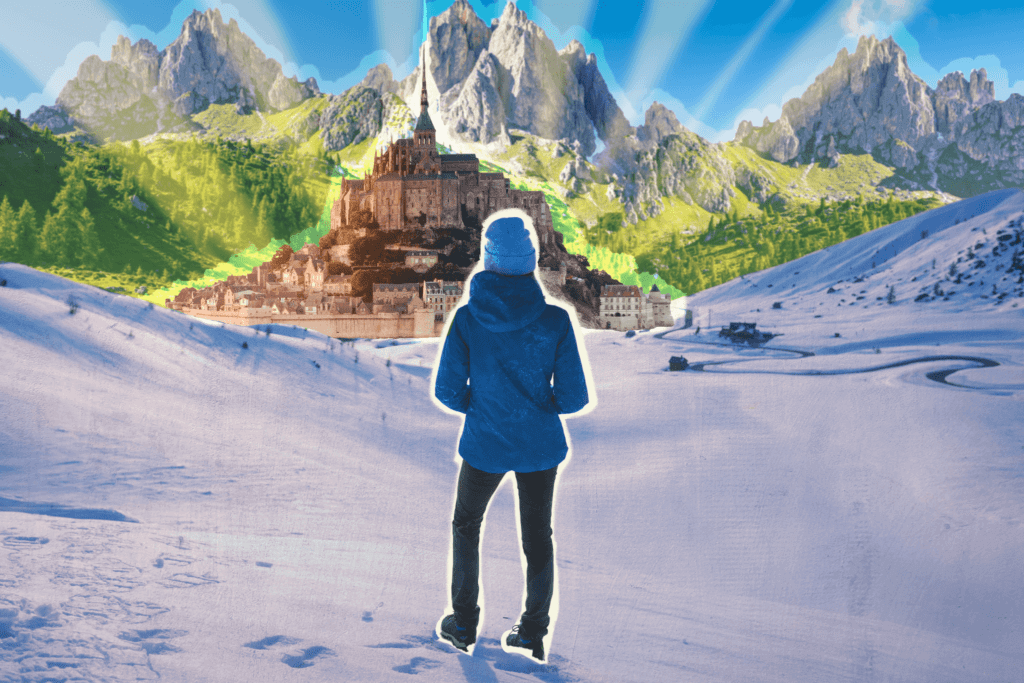 Glimpses at our post-pandemic, post-ARPA economy
Today marks a significant anniversary in the history of EdgeRock. Exactly one year ago, Kyle gathered our team around our conference room table and asked us to figure out how to work from home for the foreseeable future. 
We had just spent three weeks pulling all the available levers on our client accounts to mitigate the market's disastrous 34 percent drop. And after our plan had been fully executed, it was time to grapple with the health and safety realities so many other businesses were navigating at the same time. 
We followed the news. We read the ever-changing guidance. Nothing at the time was very clear or straightforward, but we quickly surmised, like a lot of other companies, coming into the office was no longer an advisable option for our clients or team members.
This was uncharted territory.
No one gave us a blueprint. There was no manual listing all the steps necessary to operate a financial services company without walking out the front door. EdgeRock needed to transform into a business that operated from makeshift home offices and kitchen countertops—and any drop-off in service to our clients was simply not an option. 
Within days, we'd figured out how to reconfigure our phone system, conduct team meetings over video, securely log into systems remotely, and communicate client needs between team members. Looking back, it's hard to believe everything came together as quickly as it did, how we were able to maintain continuity through such life-altering disruption.
But that's the culture we have here, one we're all proud to contribute to. When Kyle sat us down around that conference table, his demeanor wasn't nervous or shaken. It was, "We know what we have to do. Now let's get to work."
At EdgeRock, we don't back down from challenges—whether it's helping to meet unique retirement goals or navigating a generational pandemic. That's just what we do.
*   *   *
A year later, we're still dealing with many of the same issues that first surfaced in early-2020. But now we know what we're up against, we understand the solution, and we're starting to see what life might look like on the other side.
As of this writing, more than 100 million Americans have received at least one round of COVID-19 vaccine (with between two and three million shots being administered per day). The United States now leads the world in domestic vaccine distribution, and we're still just ramping up.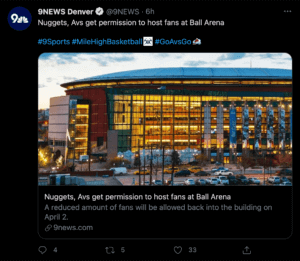 Governor Polis announced last week all adults in Colorado will have access to a vaccine by mid-April. The Rockies will have fans in the stands on Opening Day. The Nuggets and Avalanche will start introducing real "crowd noise" into the Ball Arena seats on April 2. More school districts are opening up in-person learning. Bars and restaurants are gearing up for new guidance in the coming weeks. We've been saying since last year that the economy can only recover when we can all participate in it again. Well, here it comes!
All of this news is on the heels of the American Rescue Plan Act (ARPA) being signed into law last week, a sweeping $1.9 trillion bill that provides funding for everything from extending unemployment benefits, shoring up state budget shortfalls, propping up small businesses, and building vaccine distribution infrastructure. It also put $1,400 dollars in the pockets of 90 percent of Americans. (And quite a bit more for parents of children.) It's a measure designed to incentivize a wave of consumer spending and time will tell whether that bears out.
Like any act of government, this plan isn't without its detractors. For every champion of stimulus there's a cry of inflation, and these debates are worth having. After all, the three bills signed into law over the last year—even adjusting for inflation—dwarf the stimulus measures enacted in 2001, 2003, 2008, and 2009. Is this good fiscal and monetary policy? Can the government even afford the $5 trillion of spending added to its books since last March? Again—these are good questions.
Plenty of voices in the world of finance point to the national debt and historical periods of high inflation and wonder whether further stimulus is necessary. By and large, the United States mostly dodged economic disaster over the past year. Do we really need more? Are we causing long-term problems in the name of short-term gains? What's next? Inverted bond yields? Skyrocketing CPI? Higher taxes?
The economic community aligned with the Federal Reserve, however, believes spending is just what the doctor ordered. Fed Chairman Jerome Powell recalls the slow recovery following the Economic Stimulus Act of 2008 and the American Recovery and Reinvestment Act of 2009 and is determined to not make the same mistake. Yesterday, he confirmed the central bank is all-systems-go for GDP growth and full-employment, and a little inflation right now isn't going to be a deterrent. Some highlights:
The Fed expects to keep interest rates near zero through 2023.
They project the economy to grow at 6.5 percent, which is up from 4.2 percent in their December forecast.
They project unemployment to fall to 4.5 percent.
They now project inflation to run at 2.4 percent in 2021 (as measured by PCE), which is above their two percent target but below the 3.23 percent historical average.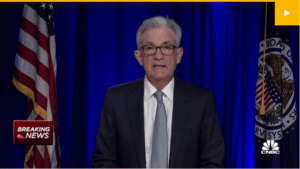 So who's right?
The truth is we don't know yet. The economy isn't static. Things students used to underline in textbooks as articles of faith in the '80s and '90s are hotly debated today. The 2008 financial crash was a learning experience today's economics community lived through. Now they're attempting to implement everything they learned.
What does it mean for you and your investments? We're about to find out a lot in the coming month. First quarter earnings are due in a couple of weeks and we'll start to get a clearer picture about what's ahead. It's important we remain active and alert during this time period. It's our job to be flexible and dynamic, ready for whatever is next—and we will be.
Because EdgeRock doesn't back down from challenges. That's just what we do.
---
EdgeRock Wealth Management is an independent firm helping individuals create retirement strategies using a variety of insurance and investment products to custom suit their needs and objectives. This material is intended to provide general information to help you understand basic financial planning strategies and should not be construed as financial or investment advice. All investments are subject to risk including the potential loss of principal. No investment strategy can guarantee a profit or protect against loss in periods of declining values.
The information contained in this material is believed to be reliable, but accuracy and completeness cannot be guaranteed; it is not intended to be used as the sole basis for financial decisions. If you are unable to access any of the news articles and sources through the links provided in this text, please contact us to request a copy of the desired reference.
Advisory services are offered through EdgeRock Capital, LLC ("EdgeRock"), an independent SEC-registered investment advisor. Registration with the SEC as an investment adviser does not imply that EdgeRock or its owner or employees of EdgeRock possess a particular level of skill or training in the investment advisory or any other business. The firm's disclosure documents (Form ADV 2 – Brochure, Privacy Policy, etc.) are available online at www.edgerockwealth.com. EdgeRock is not a broker-dealer. EdgeRock Wealth Management, LLC is an independent financial services firm that helps individuals, families and companies create strategies which use a variety of investment and insurance products to suit their needs and goals. Advisory services are provided by EdgeRock Capital, LLC, a SEC Registered Investment Advisor. Registration does not imply any level of skill or training. The information presented in this video is for educational purposes only and does not represent an offer or solicitation for the purchase or sale of any specific securities, investments, investment strategies, or insurance products or services by EdgeRock Wealth Management, or any other third party regardless of whether such security, product or service is referenced in this website or video. Investing involves risk of loss. No investment strategy can guarantee a profit or protect against loss in periods of declining values. Changes in investment strategies, contributions or withdrawals, and economic and market conditions will materially alter the performance of your account. Nothing in this website or video is intended to provide tax, legal, or investment advice. You should consult your business advisor, attorney, or tax and accounting advisor regarding your specific business, legal or tax situation. EdgeRock Wealth Management, LLC links information provided by third parties to assist users in locating information on topics that might be of interest to them. Although the information presented is from sources we deem to be reliable, it has not been verified and is not guaranteed, nor can we attest to the accuracy of the information. Presenting information provided by a third party does not constitute a representation of the products or services offered by our firm and does it constitute an endorsement by our firm of the sponsors of the website or video or the information, products or services presented on the website. No consideration of any kind has been paid to or by EdgeRock Wealth Management, LLC or EdgeRock Capital, LLC for the information discussed on the website or in this video. The information is not intended to be used as the sole basis for financial decisions, nor should it be construed as advice designed to meet the needs of an individual's situation. Please consult your financial advisor before buying or selling any security.
Ready to Take
The Next Step?
---
For more information about any of the products and services we provide, schedule a meeting today or register to attend a seminar.