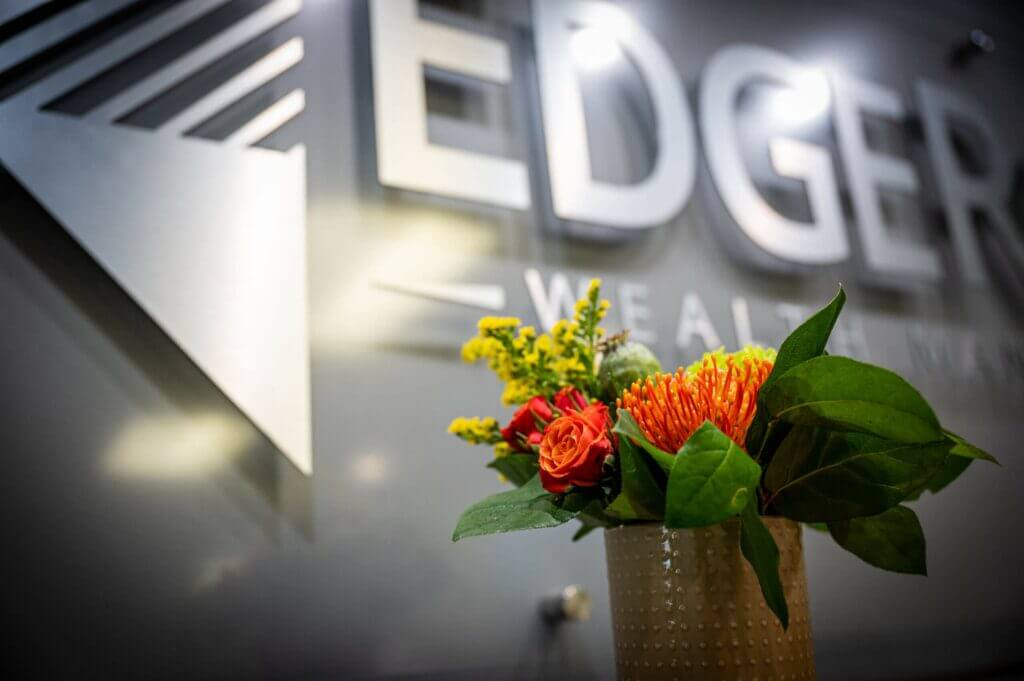 Colorado Florist: Get Your Flower Fix
The next time you're in our office, take note of the flower arrangements in the lobby and conference rooms. Every Monday, EdgeRock employees look forward to new chic mini vases filled with seasonal flowers. These arrangements are done by Monica Thebaeu (pronounced tee-bo), owner of Flower Fix, a floral boutique based in Parker. We were excited to get the chance to steal her away from her busy schedule in order to ask her about the business of floral arrangements and how it blossomed into what it is today.
When did you start Flower Fix?
I started Flower Fix when I moved to Colorado in 2015, but I've had other flower shops since I was 19, one in Nebraska (for 15 years) and another in Kansas City.
What services or products do you offer?
I mostly do arrangements for corporate and business thank you gifts, bouquets for everyday events, birthdays, get-well bouquets, and sympathy work. I also carry local and woman-owned business gifts to go along with flowers, as well. Things like chocolates or bath products. The only thing I don't do are events or weddings.
What made you choose to start a company in this industry?
In my hometown, I worked in a florist shop and fell in love with being able to connect to people by using flowers. Being able to support a special moment in somebody's life with flowers is a pleasure and an honor. I get to help people console or celebrate. I love being a part of that for my customers.
What is unique about your company?
The most common complaint in my industry is people not knowing when their orders are going to be delivered. My company offers confirmation emails with a photo of the bouquet you ordered so you know your order is being delivered and what it looked like. We also deliver on the weekends when a lot of other companies don't. Everybody I work with is also highly trained.  We provide stylish bouquets without using popular fill-flowers like carnations and baby breaths We prefer to use more unique flowers at an affordable price.
How much time do you spend working on your business each day?
I start my day by creating designs for about 3 hours, then another 2-3 hours of other work. I also spend some time being involved in women's mastermind groups and women-in-business coaching classes to better improve our quality of business.
If you could speak to your younger self, just starting out, what advice would you give him/her?
I'd tell my younger self to keep better control of my cost of goods, profit margins, and paperwork. It isn't my strong suit as a creative mind. I wish I could have done better.
---
Need a quick gift idea for someone in your life? Consider using Flower Fix to impress your friends and family with beautiful arrangements and local gifts!
Advisory services are offered through EdgeRock Capital, LLC ("EdgeRock"), an independent SEC-registered investment advisor. Registration with the SEC as an investment adviser does not imply that EdgeRock or its owner or employees of EdgeRock possess a particular level of skill or training in the investment advisory or any other business. The firm's disclosure documents (Form ADV 2 – Brochure, Privacy Policy, etc.) are available online at www.edgerockwealth.com. EdgeRock is not a broker-dealer. EdgeRock Wealth Management, LLC is an independent financial services firm that helps individuals, families and companies create strategies which use a variety of investment and insurance products to suit their needs and goals. Advisory services are provided by EdgeRock Capital, LLC, a SEC Registered Investment Advisor. Registration does not imply any level of skill or training. The information presented in this video is for educational purposes only and does not represent an offer or solicitation for the purchase or sale of any specific securities, investments, investment strategies, or insurance products or services by EdgeRock Wealth Management, or any other third party regardless of whether such security, product or service is referenced in this website or video. Investing involves risk of loss. No investment strategy can guarantee a profit or protect against loss in periods of declining values. Changes in investment strategies, contributions or withdrawals, and economic and market conditions will materially alter the performance of your account. Nothing in this website or video is intended to provide tax, legal, or investment advice. You should consult your business advisor, attorney, or tax and accounting advisor regarding your specific business, legal or tax situation. EdgeRock Wealth Management, LLC links information provided by third parties to assist users in locating information on topics that might be of interest to them. Although the information presented is from sources we deem to be reliable, it has not been verified and is not guaranteed, nor can we attest to the accuracy of the information. Presenting information provided by a third party does not constitute a representation of the products or services offered by our firm and does it constitute an endorsement by our firm of the sponsors of the website or video or the information, products or services presented on the website. No consideration of any kind has been paid to or by EdgeRock Wealth Management, LLC or EdgeRock Capital, LLC for the information discussed on the website or in this video. The information is not intended to be used as the sole basis for financial decisions, nor should it be construed as advice designed to meet the needs of an individual's situation. Please consult your financial advisor before buying or selling any security.
Ready to Take
The Next Step?
---
For more information about any of the products and services we provide, schedule a meeting today or register to attend a seminar.