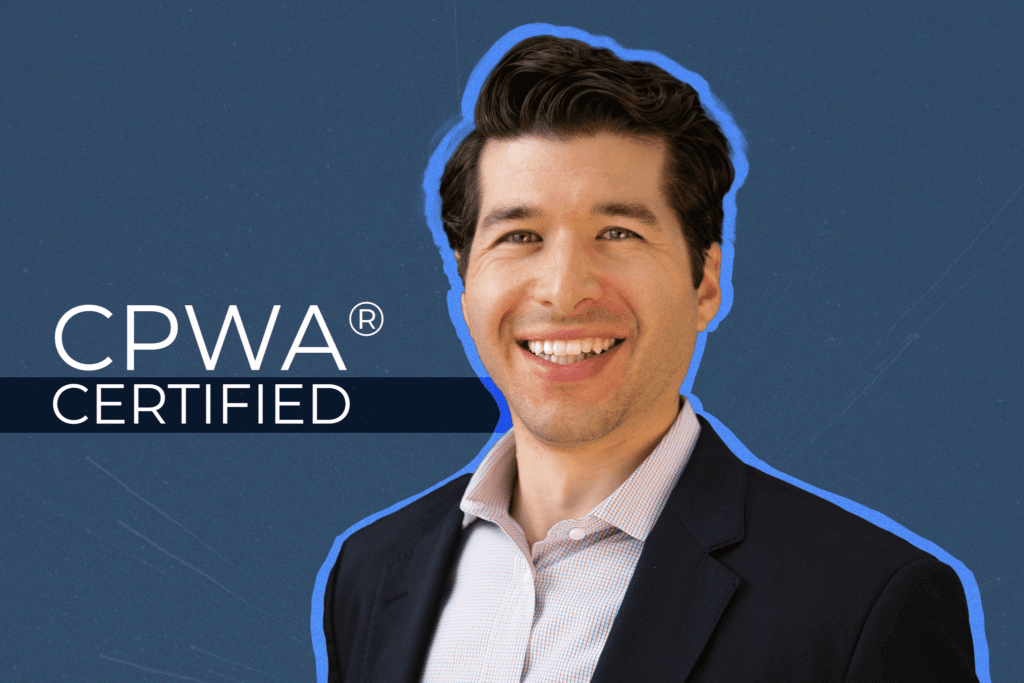 Jordan's New CPWA Designation
At EdgeRock, we're very committed to getting better.
Sometimes it's taking golf lessons or salsa classes on the weekends, but most of the time? Our team is pushing hard to stay current in the world of finance and improve our skills on behalf of our clients. That's why we're glad to have Jordan around.
Last week he completed his CPWA certification, which is sure to come in handy as he continues to engage with our clients and make sure their Summit Plan meets their ongoing needs. What is a CPWA certification?
What is a CPWA certification?
Certified Private Wealth Advisor® (CPWA®) certification is an advanced professional certification for advisors who serve high-net-worth clients. It's designed for seasoned professionals who seek the latest, most advanced knowledge and techniques to address the sophisticated needs of clients. Unlike credentials that focus specifically on investing or financial planning, the CPWA® certification program takes a holistic and multidisciplinary approach.
How does an advisor get a CPWA designation?
Before obtaining a CPWA designation, a financial advisor must have three requirements:
One of the following certifications or licenses: CIMA®, RMA®, CFA®, CFP®, ChFC®, or a CPA license.
Five years of experience in financial services at the time of certification.
Successfully complete a comprehensive background check.
Not only did Jordan pass with flying colors, but he recently had a baby while studying for this certification—now that's a hard worker!
What does this mean for clients at EdgeRock?
By getting this designation, Jordan has studied and proved his understanding of the entire wealth lifecycle—accumulation, preservation, and distribution. Now he's able to manage more sophisticated sets of issues that other advisors may not see in typical investment planning.  Jordan will now be able to further develop strategies that align with our full holistic financial planning; minimize taxes, monetize and protect assets, maximize growth, and transfer wealth. by learning the process of wealth, Jordan can better understand, empathize, and help current clients and their retirement goals.
We're ready to help you answer any and all questions you have about your accounts. Annual strategy meetings will ensure you're on the right track to a secure retirement with our team to back you up.
Advisory services are offered through EdgeRock Capital, LLC ("EdgeRock"), an independent SEC-registered investment advisor. Registration with the SEC as an investment adviser does not imply that EdgeRock or its owner or employees of EdgeRock possess a particular level of skill or training in the investment advisory or any other business. The firm's disclosure documents (Form ADV 2 – Brochure, Privacy Policy, etc.) are available online at www.edgerockwealth.com. EdgeRock is not a broker-dealer. EdgeRock Wealth Management, LLC is an independent financial services firm that helps individuals, families and companies create strategies which use a variety of investment and insurance products to suit their needs and goals. Advisory services are provided by EdgeRock Capital, LLC, a SEC Registered Investment Advisor. Registration does not imply any level of skill or training. The information presented in this video is for educational purposes only and does not represent an offer or solicitation for the purchase or sale of any specific securities, investments, investment strategies, or insurance products or services by EdgeRock Wealth Management, or any other third party regardless of whether such security, product or service is referenced in this website or video. Investing involves risk of loss. No investment strategy can guarantee a profit or protect against loss in periods of declining values. Changes in investment strategies, contributions or withdrawals, and economic and market conditions will materially alter the performance of your account. Nothing in this website or video is intended to provide tax, legal, or investment advice. You should consult your business advisor, attorney, or tax and accounting advisor regarding your specific business, legal or tax situation. EdgeRock Wealth Management, LLC links information provided by third parties to assist users in locating information on topics that might be of interest to them. Although the information presented is from sources we deem to be reliable, it has not been verified and is not guaranteed, nor can we attest to the accuracy of the information. Presenting information provided by a third party does not constitute a representation of the products or services offered by our firm and does it constitute an endorsement by our firm of the sponsors of the website or video or the information, products or services presented on the website. No consideration of any kind has been paid to or by EdgeRock Wealth Management, LLC or EdgeRock Capital, LLC for the information discussed on the website or in this video. The information is not intended to be used as the sole basis for financial decisions, nor should it be construed as advice designed to meet the needs of an individual's situation. Please consult your financial advisor before buying or selling any security.
Ready to Take
The Next Step?
---
For more information about any of the products and services we provide, schedule a meeting today or register to attend a seminar.