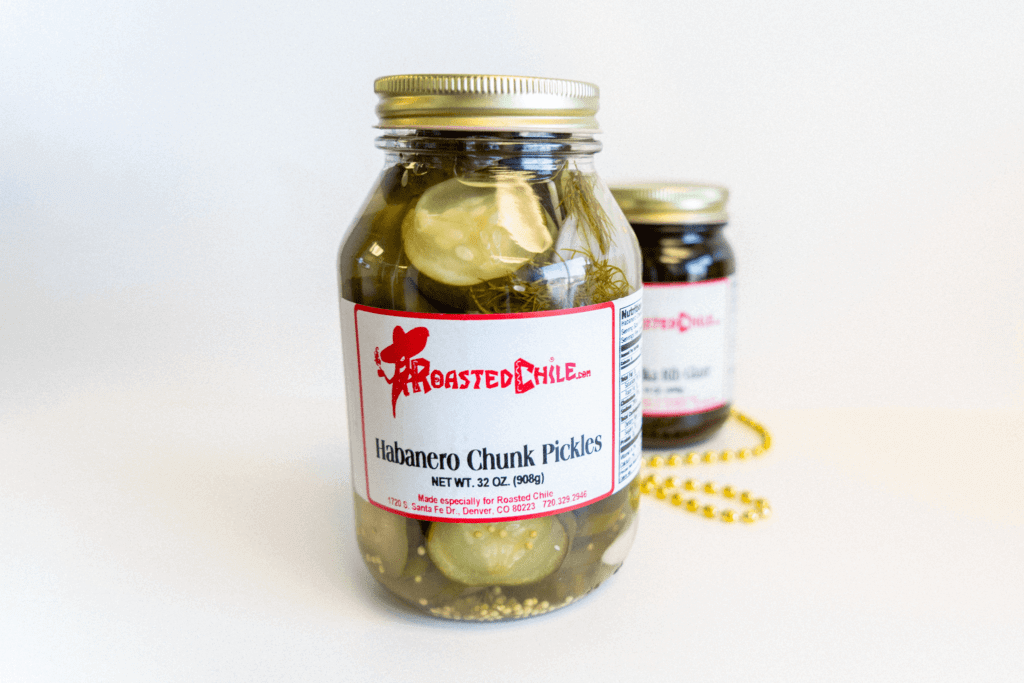 Colorado's Habanero Chunk Pickles: A Really Big Dill
Each month, EdgeRock employees highlight a new Colorado food or product to boast about. With this installment, we highlight a roadside jar of pickles that set our world on fire—both literally and figuratively!
Pickle My Fancy
Is there anywhere a pickle doesn't belong? Aside from the dessert menu, we can't rule anything  out. Pile some on a sandwich, zest up your deviled eggs, or shoot—eat 'em straight out the jar. (No judgments here.) If it isn't obvious, we're a fan of all things brined and preserved at EdgeRock, and boy, did we come across a jar of next-level cucumbers we just have to tell you about.
While driving home from running errands along South Parker Road, Marketing Designer, Niki, saw a large tent advertising everything from roasted chiles, salsas, and barbecue sauce. And while it was the barbecue sauce that convinced her to pull over, it was the habanero-infused pickles she brought home in the same haul that she's been raving about ever since. It's one of the top-selling products at the Roasted Chile tent according to its owners and we can see why. Eat bite is sweet, salty, and fiery enough to initially cause alarm before settling into a tolerable briny sizzle. They let you know you're alive before setting you back down gently enough to enjoy everything else you're eating.
---
Show Me What You've Got
If you're not into pickles, Roasted Chile carries over 25 different jarred items like cobblers, habanero salsa, queso, BBQ sauces (another one of our favorites!), jellies, and many more!
Need a drink to wash down that spicy BBQ sauce? Try our refreshing Martini Basilica recipe.
---
Where To Find This Special Colorado Pickle
There are two main locations to get your fix from Roasted Chili:
16750 E Broncos Parkway, Centennial Colorado

1700 South Santa Fe drive, Denver Colorado

Advisory services are offered through EdgeRock Capital, LLC ("EdgeRock"), an independent SEC-registered investment advisor. Registration with the SEC as an investment adviser does not imply that EdgeRock or its owner or employees of EdgeRock possess a particular level of skill or training in the investment advisory or any other business. The firm's disclosure documents (Form ADV 2 – Brochure, Privacy Policy, etc.) are available online at www.edgerockwealth.com. EdgeRock is not a broker-dealer. EdgeRock Wealth Management, LLC is an independent financial services firm that helps individuals, families and companies create strategies which use a variety of investment and insurance products to suit their needs and goals. Advisory services are provided by EdgeRock Capital, LLC, a SEC Registered Investment Advisor. Registration does not imply any level of skill or training. The information presented in this video is for educational purposes only and does not represent an offer or solicitation for the purchase or sale of any specific securities, investments, investment strategies, or insurance products or services by EdgeRock Wealth Management, or any other third party regardless of whether such security, product or service is referenced in this website or video. Investing involves risk of loss. No investment strategy can guarantee a profit or protect against loss in periods of declining values. Changes in investment strategies, contributions or withdrawals, and economic and market conditions will materially alter the performance of your account. Nothing in this website or video is intended to provide tax, legal, or investment advice. You should consult your business advisor, attorney, or tax and accounting advisor regarding your specific business, legal or tax situation. EdgeRock Wealth Management, LLC links information provided by third parties to assist users in locating information on topics that might be of interest to them. Although the information presented is from sources we deem to be reliable, it has not been verified and is not guaranteed, nor can we attest to the accuracy of the information. Presenting information provided by a third party does not constitute a representation of the products or services offered by our firm and does it constitute an endorsement by our firm of the sponsors of the website or video or the information, products or services presented on the website. No consideration of any kind has been paid to or by EdgeRock Wealth Management, LLC or EdgeRock Capital, LLC for the information discussed on the website or in this video. The information is not intended to be used as the sole basis for financial decisions, nor should it be construed as advice designed to meet the needs of an individual's situation. Please consult your financial advisor before buying or selling any security.
Ready to Take
The Next Step?
---
For more information about any of the products and services we provide, schedule a meeting today or register to attend a seminar.